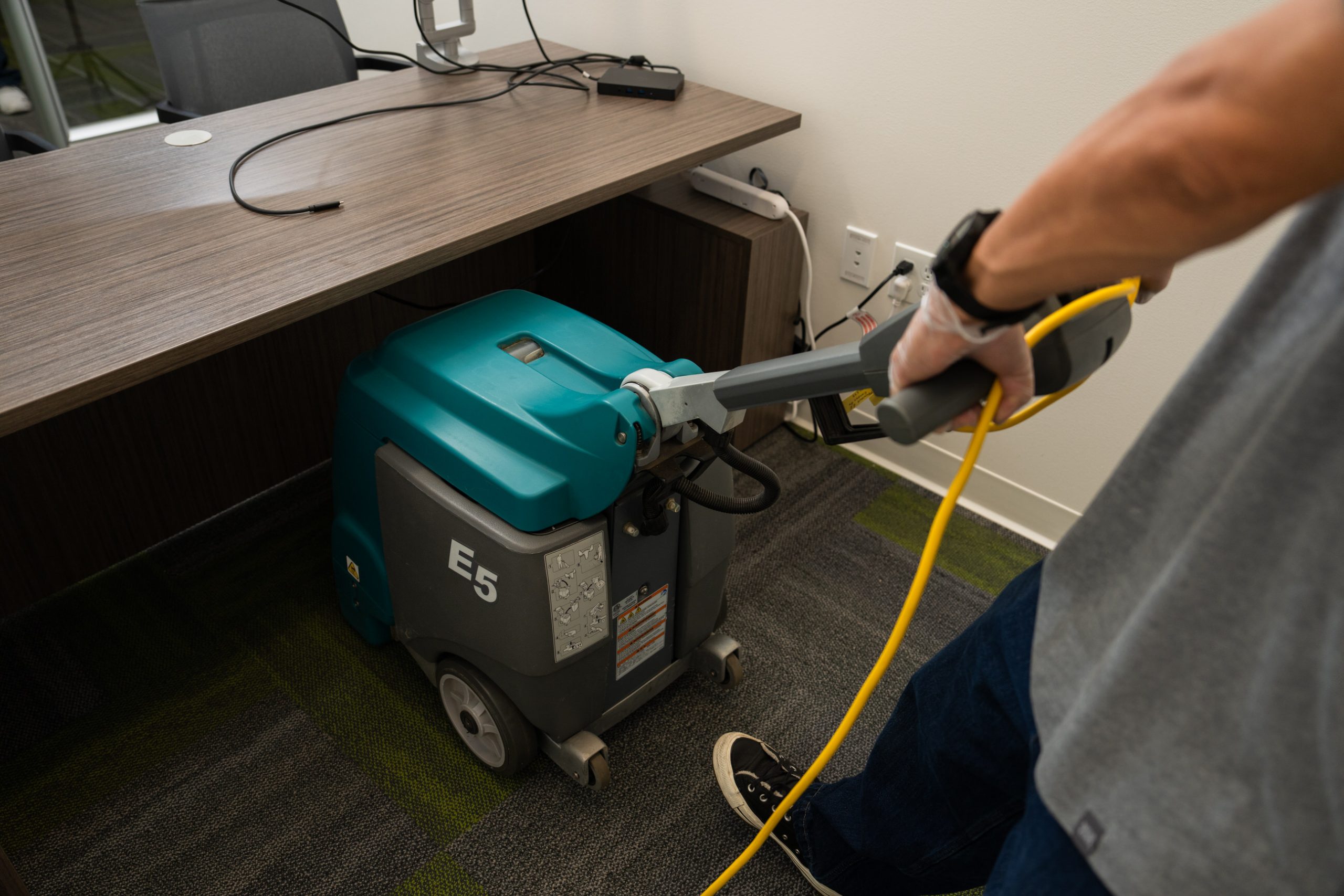 COMMERCIAL SPECIAL SERVICES
Commercial Carpet Cleaning. Windows. Construction Cleanup.
Mid City Cleaning is your trusted partner for special services, including commercial carpet cleaning. Whether you require monthly, quarterly, or annual services, or a one-time deep clean following your recent remodel, we have got you covered. Our comprehensive range of special cleaning services encompasses floor care and refinishing, pressure washing, window cleaning, construction cleanup, painting, light painting, and application of epoxy and concrete polishing. With our special cleaning services, we guarantee that your facility will meet and exceed your high standards of cleanliness.
Hard Surface Floor Care & Refinishing
All flooring needs periodic deep cleaning to look its best and stay sanitary and safe. Mid City Cleaning has the expertise and equipment to clean all floor surfaces, including autoscrubbing and sweeping equipment. You can trust us to deep clean your flooring monthly, quarterly, or annually. We are experts in VCT refinishing and deep cleaning of concrete, epoxy, rubber, and wood flooring. Our team can also professionally deep clean ceramic and terrazzo flooring as well as granite and marble.
Carpet & Upholstery
Dingy carpeting and upholstery can create a negative first impression. Mid City Cleaning is the go-to provider for commercial carpet cleaning, upholstery cleaning, and partition deep cleaning. Our team has the expertise and equipment for efficient and safe cleaning of your soft surfaces. With our top-notch commercial carpet cleaning service, we ensure a fresh and clean environment. Contact us today for the best commercial carpet cleaning solutions.
Autoscrubbing
Expansive concrete floors require special cleaning services. Mid City Cleaning has the autoscrubbing and sweeping equipment to make quick, effective work of cleaning your concrete floors monthly, quarterly, or annually. Our team has experience sanitizing warehouse floors and removing salt and other grime from parking garage decking. We also can help clean your floors during move-ins and move-outs.
Construction Cleanup
Remodels, expansions, and tenant build-outs can create a big mess. Construction dust and debris gets everywhere and rest on every surface. Cleaning up after a construction project is hard work that takes time. Leave your construction cleanup to Mid City Cleaning. Our team will efficiently and thoroughly clean your space so you can use and enjoy it as soon as possible.
Window Cleaning
Keep your windows spotless with monthly, quarterly, or annual window cleaning. Clean windows help your building look its best and ensure natural light is able to filter into your space. The Mid City Cleaning team will take special care washing the interior of your windows as well as your blinds to eliminate dust, fingerprints, and debris so you and your team can continue to enjoy the view.
Painting & Patching
Dings, scrapes, and dents to walls are all normal wear and tear, especially if you have tenants moving in an out of your building. Periodic patching and painting can help your interior walls continue to look their best. The Mid City Cleaning team includes expert drywall and painting specialists who can help you eliminate damage to your walls.
Light & Vent Cleaning
If you don't need a daily or weekly janitorial service, but some areas in your building require a little extra attention, the Mid City Cleaning crew can help. Our light cleaning services can clean and sanitize the surfaces in any space. We work afterhours for a quick turnaround time that does not interrupt your work day.
Disinfecting & Sanitation
Some facilities require extra care to ensure they are hygienic and safe for occupants or sensitive products. Mid City Cleaning is your partner for disinfecting and sanitation. We can provide electrostatic spraying for hard-to-clean surfaces and facilities as well as bathroom sanitation and disinfection of high-touch surfaces.
Audits & Corporate Walkthrough Preparation
Prepare your space for your next audit or corporate walkthrough with a floor to ceiling deep clean from Mid City Cleaning. Choose the special services you require or have our team perform all of them so your space is clean, sanitary, and looking its best. We offer afterhours services and quick turnaround times on all of our special services.
Concrete Polishing & Epoxy
Sometimes, concrete flooring requires special protection. Attractive and practical, concrete polishing and epoxy can seal out dust, bugs, and other contaminants that can interfere with your sensitive operations. Add safety lines and markings into your floor design to optimize your processes and keep your employees safe. Mid City Cleaning is your resource for concrete polishing and epoxy flooring applications. Our expert crew will assess your flooring and make recommendations for how to protect it with polishing or an epoxy floor coating. We can also provide care for your floor once installed.
Pressure Washing
The exterior concrete surfaces of your property do heavy-duty work and require periodic deep cleaning. Mid City Cleaning's pressure washing team can help your sidewalks, parking lots and ramps, and exterior walls look their best. Pressure washing blasts away dirt, grime, salt, and mildew. When the seasons change, get in touch with the Mid City Cleaning team to deep clean your concrete surfaces.
Our Commitment to Green Cleaning
Achieving a spotless clean does not have to put the health and safety of your team at risk. Mid City Cleaning uses chemicals, products, and processes that are not hazardous to health or to the environment. Our green cleaning methods are effective without leaving behind harsh smells or chemical residues. Our crews comply with green cleaning standards from LEED, the US Green Building Council, ISSA CIMS, and the Greenguard Environmental Institute. Our products and services are Green Seal certified.
"When we set up services at my other facility everything went smoothly, and I would like you to service this facility as well." – Public Transportation Provider
"Their commitment to providing top-notch cleaning solutions has helped us keep our operations running smoothly and efficiently. From routine maintenance to emergency cleanup, we have always been able to count on Mid-City Cleaning to deliver the results we need, when we need them." – Public Facilities
"Mid-City Cleaning has been providing outstanding cleaning services for the past thirty years and has been a reliable and valued partner to the local government. The team at Mid-City Cleaning have demonstrated an unwavering commitment to their clients, consistently exceeding expectations with their exceptional attention to detail and unparalleled work ethic." -Local Government Facility
Contact us today for your free estimate for routine janitorial or special deep cleaning services. We look forward to learning how we can serve you.
24/7 SERVICE
Office Hours:
Monday – Friday, 8 am to 4 pm
BUILDING MAINTENANCE WITH A QUALITY EDGE