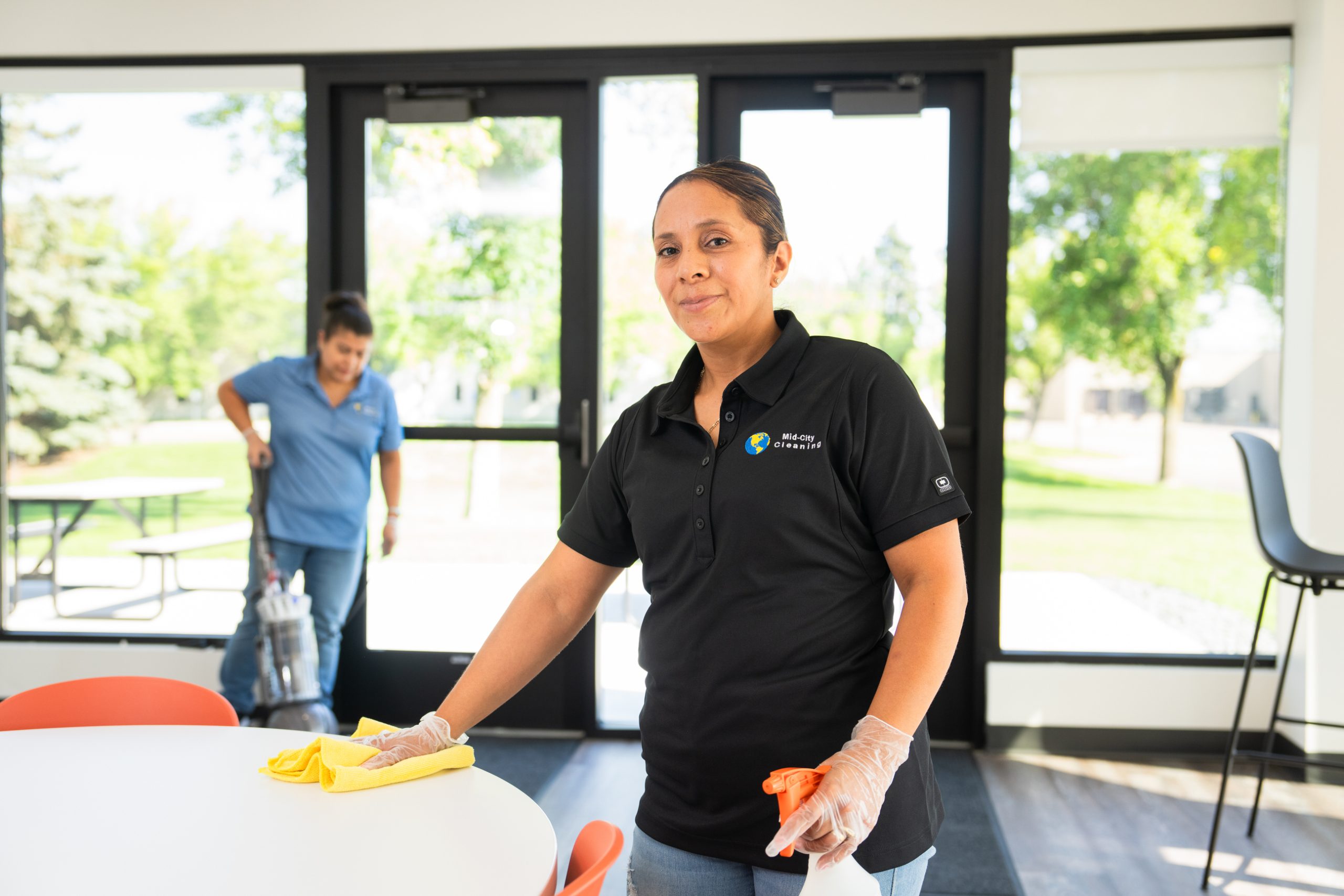 COMMERCIAL CLEANING JOBS
Rewarding Work. Benefits. Growth Opportunities.
Looking to grow your career as a commercial cleaner? We are always hiring for commercial cleaning jobs in Minneapolis, Edina, Richfield, Minnetonka, and other cities across the Twin Cities. Our talented crew of commercial cleaners perform routine janitorial services as well as special services in offices, manufacturing facilities, health care facilities, stadiums, data centers, and more.
Commercial Cleaning Job Duties
As a cleaner with Mid City Cleaning, you'll perform a variety of job duties every day. These duties may include:
Sweeping and mopping floors
Vacuuming carpeting and mats
Cleaning and restocking restrooms
Dusting and polishing surfaces and items
Cleaning drinking fountains
Cleaning windows and glass
Damp wiping and sanitizing
Trash and recycling removal
Some duties may require the use of an auto scrubber. Ideal candidates are detail-oriented, work at a consistent pace, open to training, and work well with others.
Discover the Perks of a Commercial Cleaning Job
Join Mid City Cleaning and unlock a world of benefits! As a full-time employee, you'll enjoy health care coverage, paid vacation and sick leave, and paid holidays. Even as a part-timer, you'll receive some of these amazing perks. And that's not all – there's room for career advancement and skill specialization. Don't miss out on this exciting opportunity!
Our Commitment to Green Cleaning
Achieving a spotless clean does not have to put the health and safety of your team at risk. Mid City Cleaning uses chemicals, products, and processes that are not hazardous to health or to the environment. Our green cleaning methods are effective without leaving behind harsh smells or chemical residues. Our crews comply with green cleaning standards from LEED, the US Green Building Council, ISSA CIMS, and the Greenguard Environmental Institute. Our products and services are Green Seal certified.
Become part of the Mid City Cleaning team and help organizations across the Twin Cities maintain clean and safe buildings. Get in touch to learn more about a career with us.